Large Canals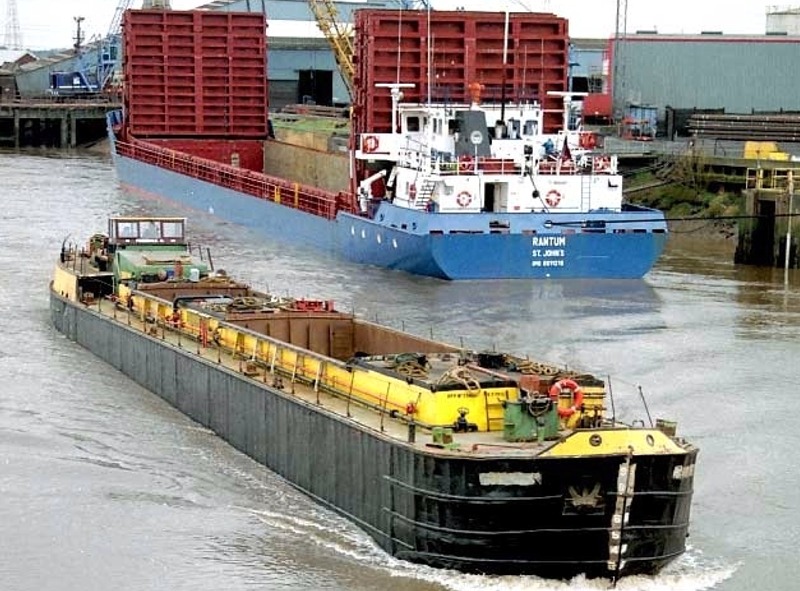 There are many sizes and types of waterways in this country from the traditionally sized narrow canal network able to take vessels carrying 25 tonnes to the largest ship canals and tidal estuaries. Below are some case studies of current operations on the larger waterways of the UK.

These can be viewed online or downloaded.
Please click on any of the headings below to find out more:
A report by KLH Sustainability has established the sustainability value of maximising the use of construction consolidation and river transport for the Vauxhall Nine Elms development area during the construction period 2015 to 2017.
The study found that consolidating building material at the Port of Tilbury for the Vauxhall Nine Elms site offers significant benefit to Londoners:
48% reduction of heavy goods vehicle movements
34% reduction of annual HGV kilometres travelled
2 less cyclist deaths or injuries
Once at the Tilbury consolidation centre, bulk materials such as steel, pre-cast concrete, block-work, timber and cladding could all be transported to Vauxhall Nine Elms by 1000 tonne river barge.
Further 60% reduction of annual HGV kilometres travelled
1 further cyclist death eliminated
£1.7m per annum net social value to Londoners of a consolidation centre at Tilbury and use of barge transport
This study was prepared for the London Construction Consolidation Link (LCL). A collaboration between the Port of Tilbury and S. Walsh, building upon the Port's pedigree as the logistics and distribution centre for the 2012 Olympics and Paralympics and S. Walsh's success as the largest marine operator on the Thames. LCL is supported by British Cycling.

Introduction
Tackling climate change, improving local air quality and reducing road accidents are key transport objectives within the Mayor of London's Transport Strategy. HGV traffic levels associated with construction are of particular concern for cycle safety and air quality.
Vauxhall Nine Elms is undergoing a large scale regeneration with a goal to develop 16 000 new homes and create 25 000 new jobs. While there has been significant investment into realisation of this regeneration goal, there is currently no unified logistics plan.
The Peter Brett report found that the high volumes of daily construction traffic will pose significant risks to road user safety and the effective operation of the site. The focal point of congestion will be around Queenstown Road, Chelsea Bridge and Queens Circus.
The Department for Transport (DfT) highlights the Vauxhall interchange as one of the most dangerous junctions in London, placing it in top ten for collisions and top five for cycling accidents. The decision to introduce significant numbers of additional construction vehicles to an area where current traffic levels resulted in 133 road users killed or seriously injured, 40 of whom were cyclists, needs to be challenged.
These issues call for a city-wide logistics solution for Vauxhall Nine Elms that benefits all road users and Londoners.

Port of Tilbury
Tilbury's strategic location makes it the natural point for distribution to Greater London: lying 10km outside the M25 and 22 nautical miles from Tower Bridge with dedicated barge facilities and three rail freight heads.
The Port offers: 34 operational berths |16 independent working terminals | over 7.5 km of quay | over 500,000 square metres of warehouse space.

Scope
KLH Sustainability has undertaken a high level sustainability analysis to determine the broader value of:
a) A consolidation centre at the Port of Tilbury to feed the development at Vauxhall Nine Elms
b) Modal shift from road to water for bulk deliveries and exports associated with the development at Vauxhall Nine Elms
Key Reference Data
A range of public documents and assessment methodologies have been used to inform this study, including:
Environmental and social costs have been calculated using the methodology stated in the DfT 'Mode Shift Benefit Values' Technical Report 2009
Waste associated with the key construction products have been estimated from the WRAP NET Waste Tool manual. Good practice wastage rates and reverse logistics have been applied for products passing through the consolidation centre
Haul routes within the M25 corridor are based on the broad locations of key suppliers to the construction industry e.g. precast concrete from East Midlands, steel from West Midlands
Accident rate statistics have been obtained from the DfT Road Accidents and Safety Statistics for 2013 and Transport for London
Key Assumptions
Road logistics:
Peak HGV movements are estimated from the Peter Brett Study 'Framework for a Construction Logistics and Resilience Strategy for Nine Elms on the South Bank'
Specific quantities of key construction material requirements at Vauxhall Nine Elms have been estimated based on over 10 years of experience in the construction and logistics industry and aligned with numbers of HGV vehicles from the Peter Brett study
Laden weights of HGVs transporting specific materials have been extrapolated from total average HGV laden weights from 'Road freight transport and sustainability in Britain', Allen and Browne, September 2010
River logistics:
One of the three safeguarded wharves in Nine Elms will be available for offloading/loading; Cringle Dock, Kirtling Wharf and Middle Wharf
Barge capacity is 1000 tonnes
Summary of Consolidation Centre Benefits within the M25 Corridor
Consolidating material streams at Tilbury where applicable during the peak years of construction at Vauxhall Nine Elms (2015 to 2017) offers a significant benefit to Londoners.
Implementing 'Smart Logistics' that maximise the payload on each vehicle and utilise return vehicle movements for waste removal is estimated to:
Reduce the total annual number of HGVs movements associated with the Vauxhall Nine Elms construction works by 48%
Reduce the total annual kilometres travelled by HGVs associated with the Vauxhall Nine Elms construction works by 34%
Result in 2 cyclist injuries or deaths avoided during the peak 3 year construction period
The net social value to Londoners of utilising a consolidation centre at Tilbury is estimated to be £1,663,000 per annum. This figure includes savings in health care costs associated with air pollution, noise pollution, accidents and cost of congestion and the offset due to the reduction in road tax.
Summary of Barge Logistic Benefits within the M25 Corridor
Given that road transport accounts for 91.5% of the environmental expenditure associated with freight transport, while inland waterways account for only 0.5% and Vauxhall Nine Elms' prime river-side location makes barge transport one of the most viable options.
Once at the Tilbury consolidation centre, bulk materials such as steel, pre-cast concrete, blockwork, timber and cladding could all be transport to Vauxhall Nine Elms by 1000 tonne barge.
Implementing modal shift from road to barge on such a significant scale would:
Reduce the total annual number of HGVs movements associated with the Vauxhall Nine Elms construction works by a further 60%
Result in 1 additional cyclist injury or death avoided during the peak 3 year construction period
The net social value to Londoners of utilising a consolidation centre at Tilbury combined with barge transport is estimated to be an additional £1,722,000 per annum. 


Conclusions
In view of projected benefits, further consideration should be given to the use of the proposed consolidation centre at Tilbury, combined with barge transportation to reduce the negative impacts of the construction at Vauxhall Nine Elms.


Further benefits could be realised by locating a precast concrete yard and blockwork manufacture at Tilbury. UK-wide benefits could be sought by importing the raw materials for these works to Tilbury by barge or rail.


Although this study focuses on the Vauxhall Nine Elms site, the conclusions are equally valid for other planned developments near or on the Thames such as South Quays Plaza.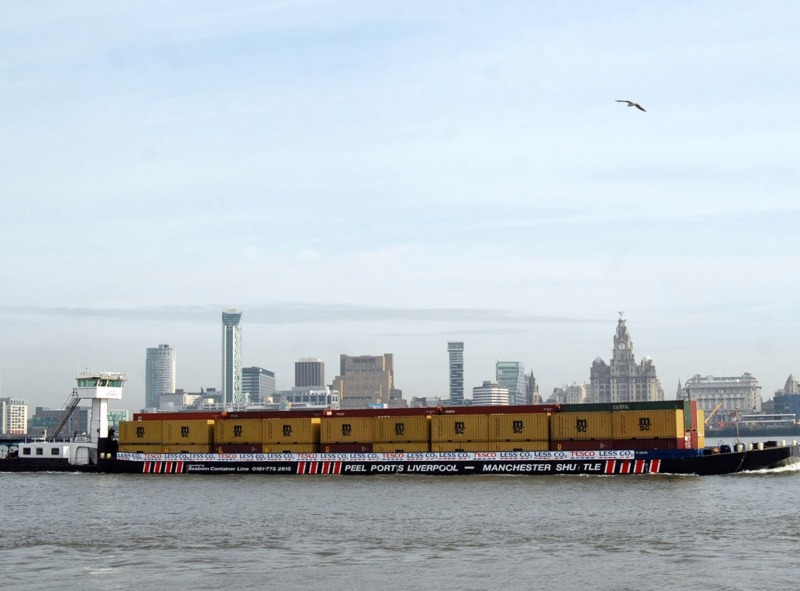 WINE GOES BY "GREEN" BARGE TO TESCO


Wine bound for Tesco supermarkets is flowing up the Manchester Ship Canal from the Port of Liverpool in a green waterborne initiative which is taking thousands of trucks off Britain's congested roads and cutting CO2 emissions by 80%.


Peel Ports' Liverpool – Manchester Shuttle operated by a tug pushing a barge capable of carrying up to 160 20ft containers, runs weekly from the international container terminal at Liverpool to the Irlam Container Terminal 40 miles up the River Mersey and Ship Canal.

The pioneering trans-shipment service sails up to three times a week from the mouth of the Mersey to the heart of the North West Region with a range of cargoes delivered by deep-sea shipping services at Liverpool's Royal Seaforth Container Terminal.


On its return run, the Shuttle is expected to carry export cargo plus repatriated empty containers for transfer to deep-sea shipping services out of the Port of Liverpool.


Tesco are using the shuttle to move containers of new world wines normally transported from the Port of Liverpool by road to Salford based Kingsland Wines and Spirits for packing for distribution to supermarkets across the country.


Other businesses have merely discussed switching over to transporting their cargo by waterway one day but we're actually doing it. This move may seem like taking a step back to the pre-car days of the late Victorian era - when a lot of cargo was still transported by canal – but is a step forward in helping to address today's important environmental issues. Tescos are continually reviewing alternative green methods of transporting cargo and this is our first waterborne project within the UK. We are already looking at other areas where we can move freight on waterways.


The movement of containers by water from the Port of Liverpool into Greater Manchester and the North West, not only offers the shipper economies of scale, it provides the environment with valuable breathing space. Every container carried up the Mersey and the Manchester Ship Canal takes a truck off the road, reduces the carbon footprint by 80% and dramatically reduces the damage caused to the road system.


The major road route between Liverpool and Manchester runs almost parallel with the River Mersey and Ship Canal, but the fully laden barge produces just 20% of the CO2 emissions generated by a fleet of fully loaded trucks carrying the same cargo. The River Mersey and Manchester Ship Canal is a motorway with great potential."


One corner of the processing site is only 50 yards from the Manchester Ship Canal, with the Irlam Container Terminal nearby. Most of the liquid cargo, currently amounting to 1,500 teus (20ft containers) a year, is carried by Mediterranean Shipping Company on its weekly feeder service between Antwerp and Liverpool. Trans-shipping from the Royal Seaforth Container Terminal to the Irlam Container Terminal on the Ship Canal, ensures that the containers travelling thousands of miles across the globe, stay on water rather than road to complete their journey.


The Tesco wines from Australia, New Zealand, California, Chile and Argentina, had already secured substantial green miles when Mediterranean Shipping Company (MSC) transferred the containers from Felixstowe to Liverpool. The Peel Ports Shuttle achieves a further cut in road miles and establishes a near complete waterborne transport solution.


The environmental advantages are an added bonus in a logistics exercise which is a partnership between Peel Ports and Tesco.


To download as a pdf ... click here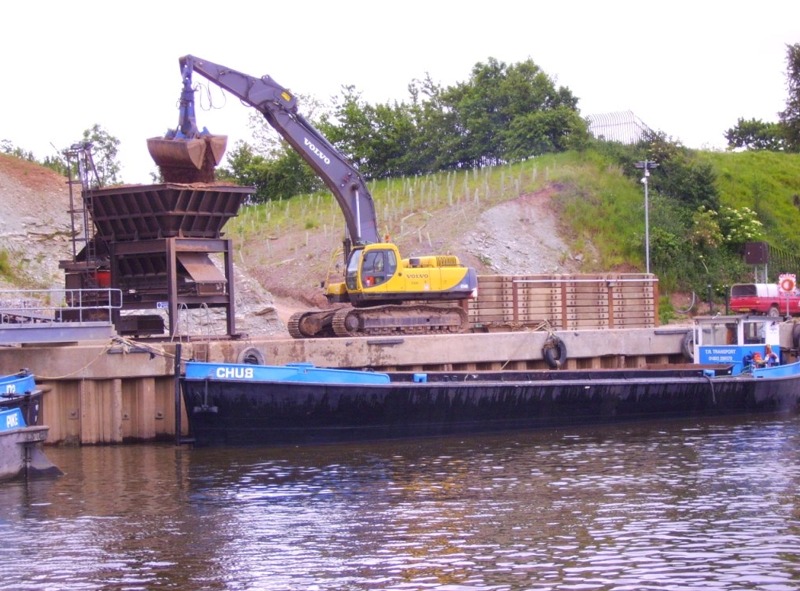 CEMEX aggregates moved on the River Severn
Water-borne freight services have resumed on the River Severn after a 10-year hiatus.
CBOA members Thompson River Transport have facilitated a cheaper and environmentally-friendlier means of transporting CEMEX aggregates by water rather than by road.
In March 2005 commercial use of the non-tidal River Severn resumed when transport of CEMEX's quarried products on specialist (180-tonne) barges operated by Thompson River Transport began. This freight activity has resulted in the transport by water of 200,000 tonnes a year of sand and gravel.
The aggregate is extracted from a quarry near Ripple and transported by barge two miles north to CEMEX's Ryall plant near Upton-upon-Severn, Worcestershire, with four to seven loads per day being moved. At Ryall the aggregates are washed and separated into various grades and delivered by road to CEMEX concrete making plants.
Once property and legal matters have been resolved, it is expected that there will be a regular service whereby some 65,000 tonnes a year of newly-processed material will be loaded back onto the barges and transported down the River Severn and via the Gloucester - Sharpness Canal to CEMEX's Ready Mixed Concrete plant two miles south of Gloucester. The concrete will then be used for locally based, construction projects within a 10-mile radius of CEMEX Ready mixed plant.
CEMEX chose modal shift from road onto water because it was a commercially sound and an environmentally-sustainable solution. The development of quarrying activity at Ripple would have had the adverse effect of increasing the number of lorries travelling on local country lanes. The solution was to maximize the nearby river as the principal mode of transport to Ryall. In the future there may be an opportunity to extend the river-transportation service upstream .
Environmental benefits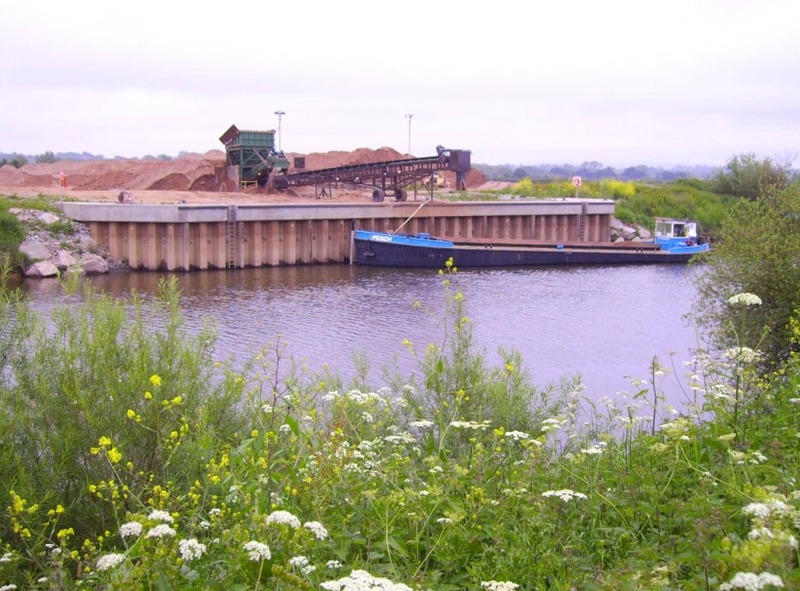 The new water-borne service has ensured that:
When the barges Perch and Chub each make four journeys a day, it is the equivalent of taking 116 (25-tonne) lorry journeys off the roads. (Barges 180-tonnes x two x four = 1440 tonnes a day) (Road haulage 1440 tonnes / 25 tonnes x two trips per delivery = 116 journeys)
The elimination of the lorry journeys means that issues such as road accidents, noise, congestion, vibration and the use of the aggregates in the road are reduced as a result of this new freight service.
Barge transport reduces emissions of carbon dioxide and other toxins. Each barge averages 90-litres of gas oil a day to operate. Water transport consume less than half the fuel required for transport by road.
Investment
To facilitate the new river-borne freight service several million pounds have been invested in the infrastructure to ensure the sustainability of the service.
CEMEX applied for, and secured, a £1 million Freight Facilities Grant from the Department for Transport and used it to establish the handling equipment at its wharves at Ripple and Ryall.
CEMEX funded over £2 million alongside the Government's grant and develop the infrastructure.
Thompson River Transport invested £300K in improving the two motor barges.

To download as a pdf ... click here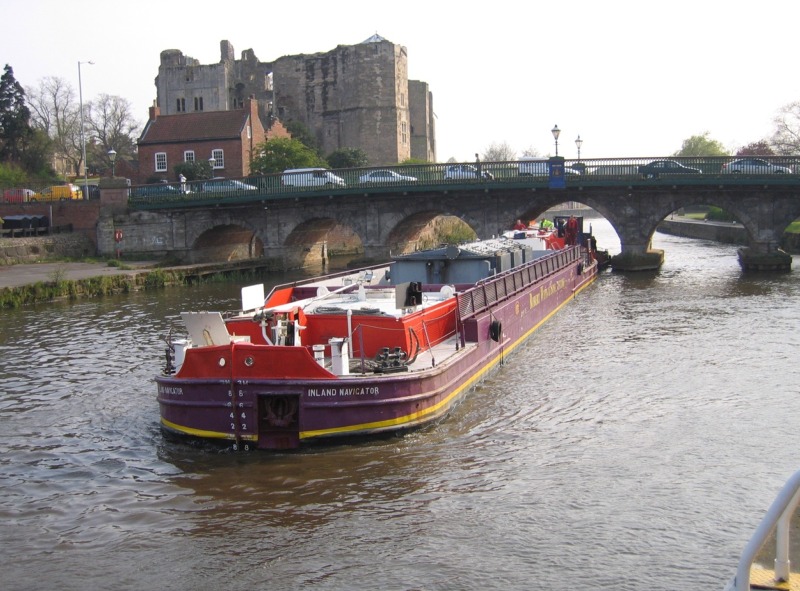 The "Inland Navigator" demonstrates the River Trent's freight carrying potential
Robert Wynn and Sons have provided a timely reminder of the role the River Trent can play in reducing congestion on Nottinghamshire's roads.

Recently the "Inland Navigator" again demonstrated the freight carrying potential of the River Trent. The vessel carried a 135 tonne load from the former Power Station site at Staythorpe along the River Trent to the Port of Goole.


The 135 tonne transformer was loaded in to the "Inland Navigator", a converted former tanker barge and then began her journey downstream through the central arch of Newark's historic Town Bridge, arriving at Goole where the load was transferred to a ship at this inland port. Traditionally similar loads would have been transported in excess of 100km along such regional roads as the A616, A614 and A1. This movement, however, involved only a 1 km road journey from a National Grid substation to the Trent-side loading facility.


Earlier the "Inland Navigator" carried two 280 tonne Quadrature Boosters on behalf of National Grid these were the largest single piece loads ever carried on the Trent upstream of Newark.

Tim West, Spokesperson for Robert Wynn & Sons commented,
"The movement of these transformers along the Trent had a beneficial impact on the region's traffic levels. Furthermore it demonstrated to politicians of all parties the freight carrying potential of our waterways, in particular the Trent. It is to be hoped that those elected locally will actively work towards increasing the tonnage carried on the river which is of course one of the UK's longest commercial waterways."

To download as a pdf ... click here